Fountains often become the focal point of your garden, so choosing the wrong one can be detrimental! However, with the right solar-powered fountain, you can transform an ordinary outdoor space into an eco-friendly escape that is enjoyable to all.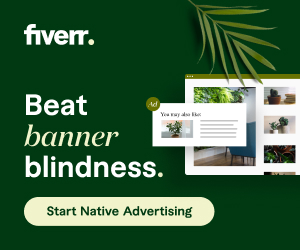 There are many places to purchase solar water fountains, like gardening stores where you can test your solar fountain in person and online, offering free delivery and installation. This makes finding the perfect solar fountain easier than ever before!
Finding the right solar water fountain depends entirely on the style, price, and type of solar collector you want. Solar fountains are the perfect way to save money, give back to the environment, and create a unique outdoor garden that you can call your own!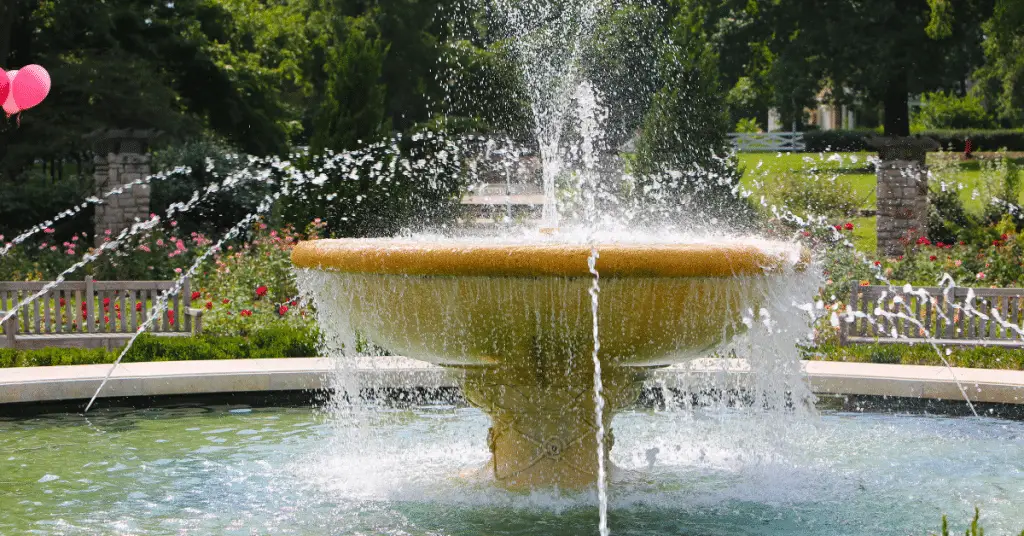 What is a Solar Fountain?
A solar fountain is a basic fountain that is powered by solar energy. Many fountains powered by solar energy use a separate solar panel that sits on the ground beside the fountain base, where it collects energy throughout the day.
The solar panel charges using the solar light, and then it powers the solar pumps and other fountain features. Alternatively, you can use a solar birdbath which is also an eco-friendly solar pump method.
Both methods require direct sunlight and operate on a solar panel.
Before investing in a solar fountain, you must first identify whether your property gets enough sun on an average day to provide adequate solar energy. If your land does not get enough sun, you will not be a plausible candidate for solar lighting.
After all, without any solar power, your solar pump is just a regular old water pump. In that case, your solar fountain is not going to get any power and will not operate.
What Are Solar Bird Baths?
Solar birdbaths are not the same as the traditional, triple-tier solar water fountains most people think of. Instead, these are small, disk-shaped solar panels with built-in filtration systems.
They act as a fountain pump inside either birdbaths or pre-existing fountains to imitate fountain elements like the sound of flowing water!
The solar disks use similar functionality as solar panels; however, they have an added water feature. Solar bird bath disks are great because they provide the running water your feathered friends need to clean themselves off.
Plus, the natural elements of the outdoors enhance your garden space, and you get to enjoy the relaxing sound of running water!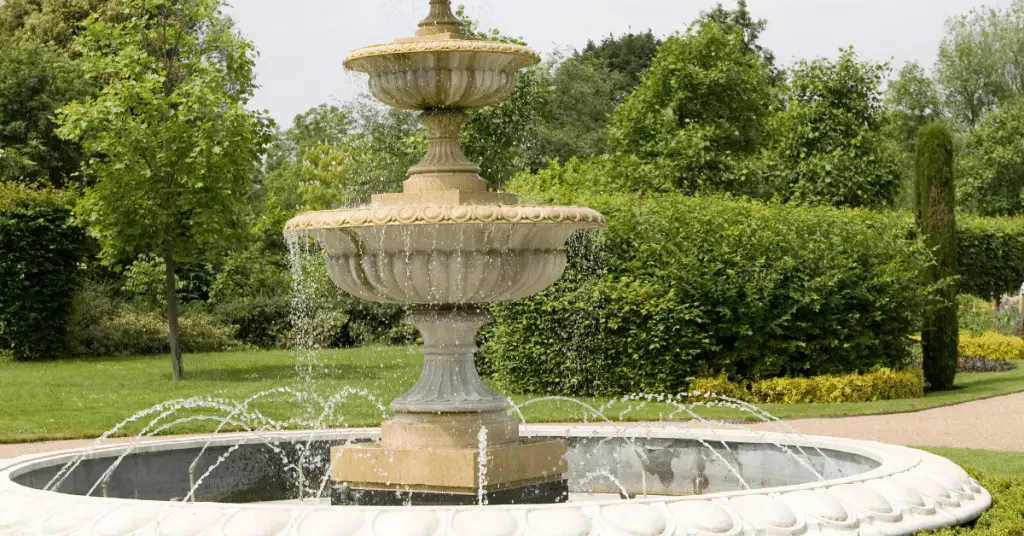 What are Solar Panels?
Solar panels collect heat energy and then transfer that energy to be converted into something useful. For example, in a solar fountain, solar panels can be used in two ways: the first way is to use the sunlight to power the fountain's solar pump.
The sunlight immediately charges the main water pump and makes the water flow.
The second way is by acting as a backup energy source. These are typically rechargeable solar batteries. This rechargeable battery replaces the main energy source, which may or may not be another rechargeable battery.
If that is the case, you should always guarantee that your solar battery is charging when the sun is out. If the backup battery is not charged, This battery backup water fountain will fail.
Remember to charge your battery pack weekly on every sunny day, in direct sunlight for as long as possible.
No matter what type of solar-charged battery pack you use, it will take sunlight to charge. Whether through a solar panel or other solar collectors, you will need to place your battery outside in the sun to collect enough power.
Adequate amounts of charging time in the sunlight vary for each battery. For an accurate charging time for your battery, it is best to check your manual.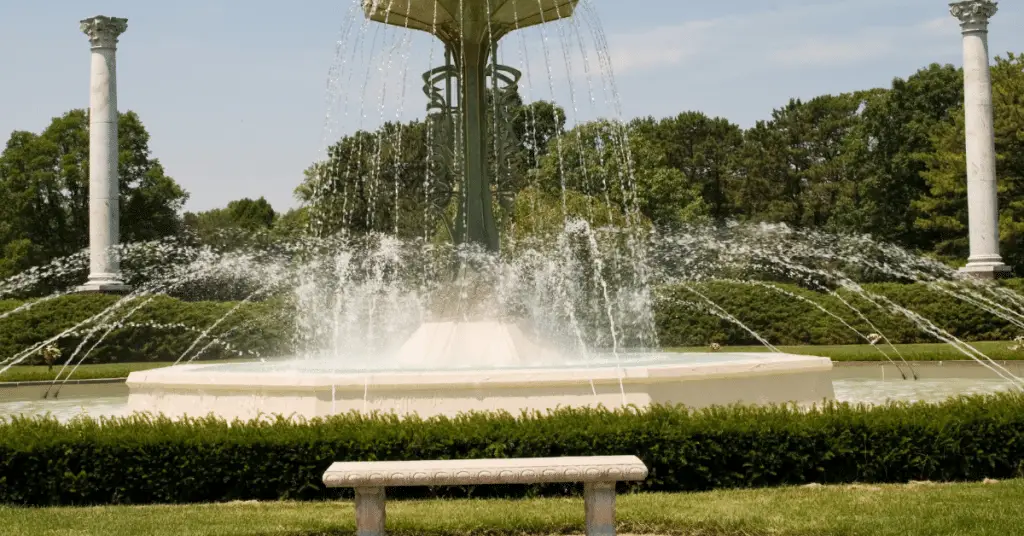 Where to Buy Solar Water Fountains
Most solar fountains are purchased from home and gardening stores like Lowes or Home Depot, but there are plenty of other options depending on what you are looking for. Solar water fountains can also be bought online from reliable wholesalers at much lower prices.
However, purchasing from an online seller may be problematic because of shipping issues.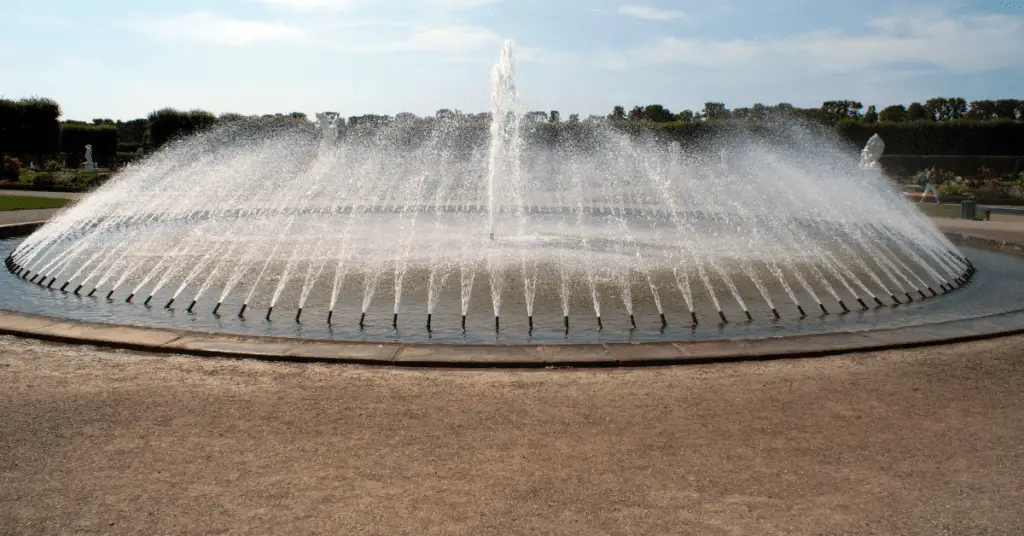 Where Can I Buy the Best Solar Water Fountain?
The best seller for buying solar water decor is from a business specialising in building solar water fountains like a local outdoor construction business or a gardening store. Partnering with a local business can be helpful because they will work hand-in-hand to construct exactly what you want at an affordable rate.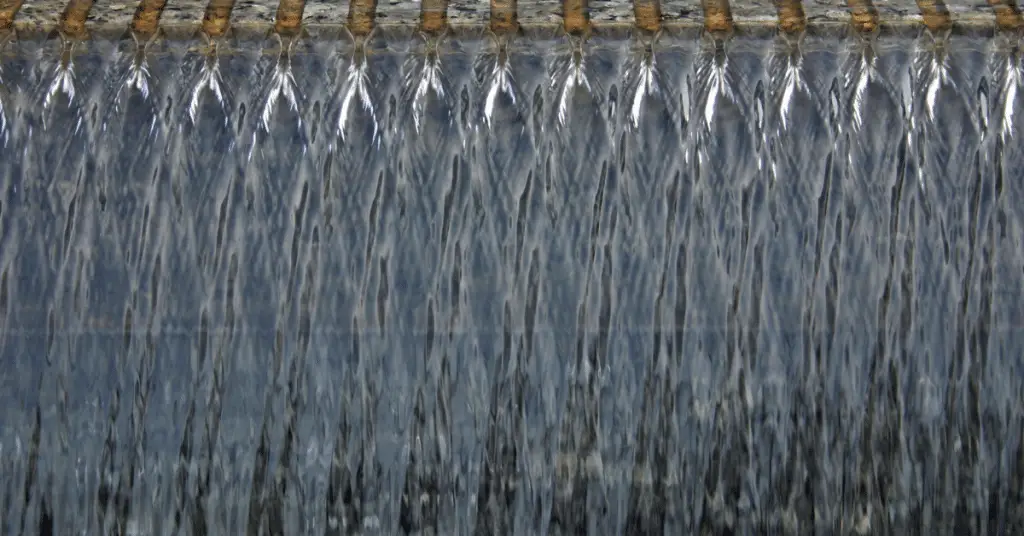 Does Amazon Have Solar Water Fountains?
Amazon sells mostly solar bird baths, which are like water fountains minus the fountain itself. These birdbaths can be added to your pre-existing fountain as a backup battery source to keep your fountain running when the electricity fails.
Or it can be your only energy source!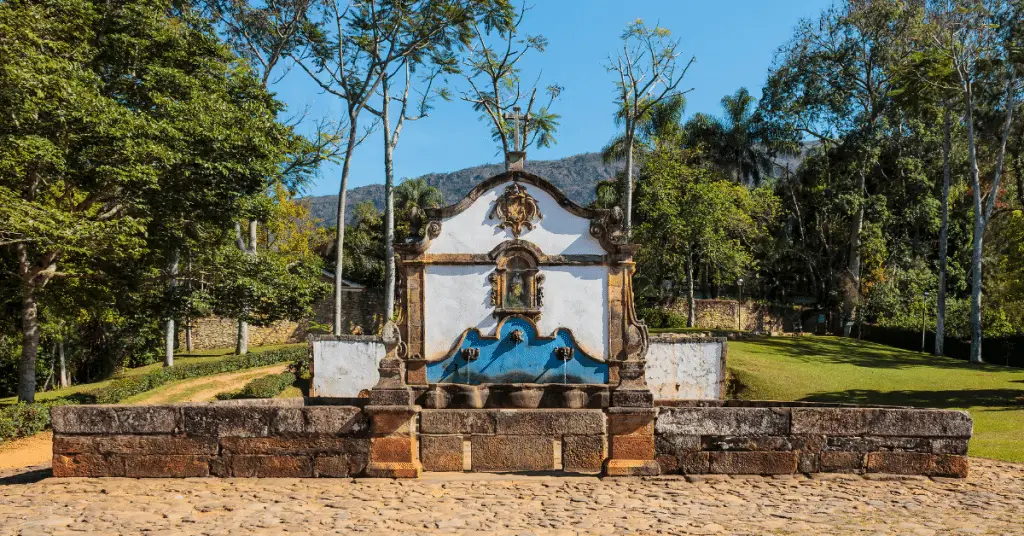 Does Walmart Have Solar Water Fountains?
Walmart sells solar water fountains at an affordable, low price. In addition, they have a broad selection of fountains in their gardening section with a variety of solar collector options, from solar panels all the way to solar panel birdbaths.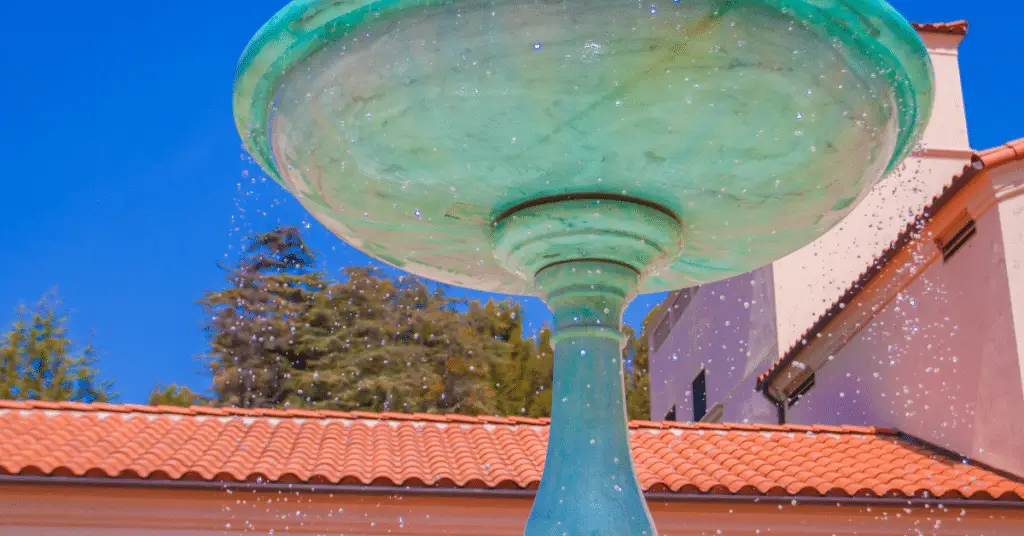 Does Home Depot Sell Solar Water Fountains?
Home Depot is the most well-known and reliable seller of solar water fountains. They sell any design you can imagine, and they are powered by solar energy!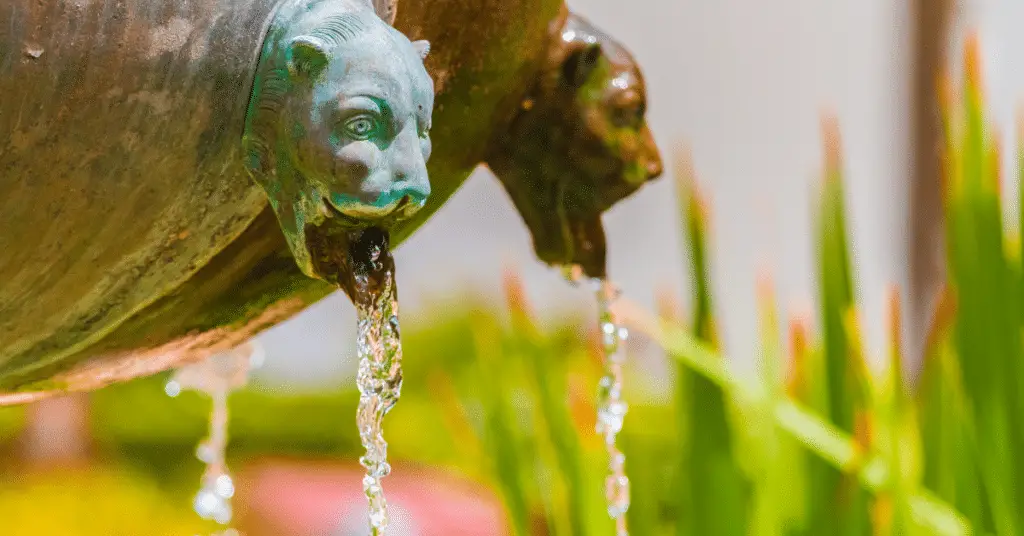 What Retailers Sell Solar Fountains?
Retailers are great places to purchase solar water fountains because these can typically be demonstrated in person. You may also bring your fountain home that same day and begin installation immediately.
Most retailers offer free, next-day delivery if you do not have a big enough vehicle to take your fountain home. Even better, some offer installation!
The best retail stores that sell solar fountains include:
Walmart
Home Depot
Target
Lowes
What Online Stores Sell Solar Fountains?
Purchasing a fountain online is one of the most convenient ways to shop. Simply find the fountain you want and wait for the delivery.
Most online stores will even offer free returns for unsatisfied customers, so your happiness is guaranteed! The only downfall to shopping online is not knowing the condition your product will arrive in and relying on other customers' reviews!
The best online marketplaces that sell solar fountains include:
Overstock
Pottery Barn
Wayfair
Most retail websites
Buying a Solar Fountain from Walmart
Walmart is a leading competitor with some of the top-name gardening stores because of its large, high-quality gardening department. This makes it a reliable choice for finding your new solar water fountain.
However, many things set Walmart aside from others when it comes to purchasing your fountain.
The Best Things About Walmart:
Fantastic return policy
High-quality products
Medium selection
Free shipping
Payment plans available
There are many great things about buying your solar energy fountain from Walmart.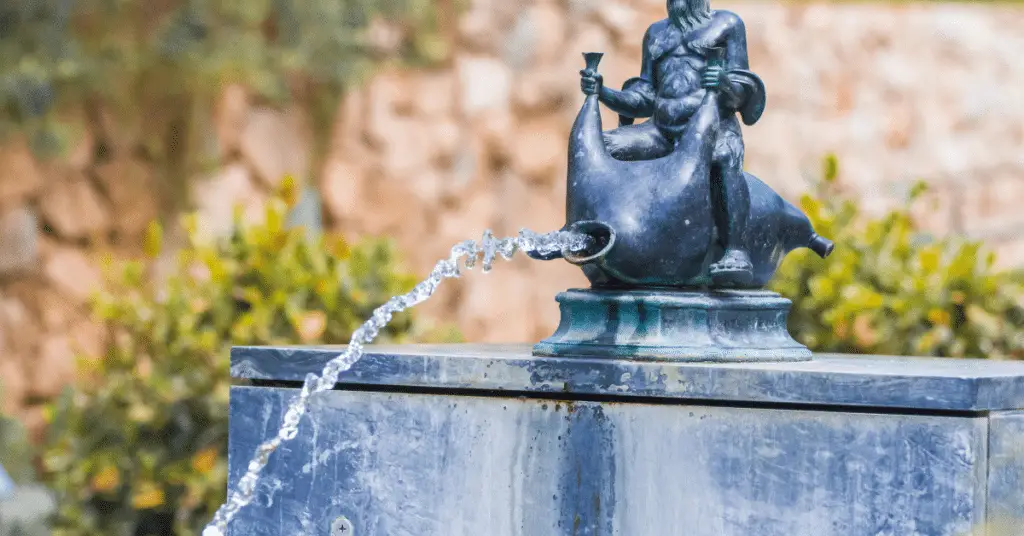 Walmart has Good Customer Satisfaction.
Many customers rave about the quality of Walmart fountains! The special fountain features and unique water elements make these fountains top quality! Plus, Walmart always guarantees customer satisfaction or your money back. So if you are not happy, use their exceptional, 90-day return policy until you find the fountain of your dreams!
Walmart has Payment Plans.
Through their fixed, monthly payment plan with Affirm, Walmart adjusts the price so you can pay off your solar fountain over a year! This way, you can afford your solar water fountain without being pressured by rising interest!
A Limited Selection at Walmart
Walmart offers a range of products; however, they do not offer as many as their competitors. Even in their online store, you will notice that Walmart lacks originality in its outdoor solar designs. There are very few different designs offered at Walmart.
Great Fountain Designs
There are many designs available at Walmart. No matter your style, there is a design for everyone. So whether you are looking for a polyresin fountain or searching for a decorative fountain to hang on your garden walls, you can find your dream fountain here!
Buying a Solar Fountain from Home Depot
Home Depot is known across the nation for being the most reliable gardening brand and for having the hugest selection of all things outdoors. Solar power is no exception to their extraordinary outdoor reputation, either. Solar water decor at Home Depot comes in a variety of interesting designs like wall hanging and polyresin.
The Best Things About Home Depot:
Affordable prices
Design variety
Massive selection
Knowledgeable staff
Exceptional quality
The large selection of water fountains at Home Depot includes some of the most innovative designs in solar power.
Great Selection of Solar Fountains at Home Depot
There are so many unique options at Home Depot. You are bound to find one to help create the garden of your dreams. Whether you want a hanging wall fountain or a pond-inspired solar fish tank, there are hundreds of choices at Home Depot. Some of them are nature-inspired, and others are whimsical and made from polyresin.
The large selection makes every wild dream you have ever had about your garden come to life! Intricate modelling and special figure making create unique models like the LuxenHome Bunny Friends polyresin solar fountain. Home Depot has the largest selection of solar-powered fountains.
Plus, the online Home Depot marketplace features hundreds of extra choices that may not be available at your local Home Depot. This also applies to the hundreds of solar panel companies which may be kept off-site! In addition, every online order can be shipped directly to your home at no additional charge!
Home Depot has Exceptional Staff.
With the help of any salesperson, you can find anything you need regarding solar gardening decor. However, the outdoor gardening staff at Home Depot are dedicated to bringing you the most accurate information possible. This way, you can minimize the confusion about going solar! The Home Depot staff knows everything from what type of solar panel you need all the way to how the solar panel connects to your new fountain!
Too Many Options at Home Depot
Sometimes having tons of options is not always a good thing. For example, purchasing solar fountains from huge gardening stores like Home Depot can intimidate the average Joe. That is why many people opt for non-speciality stores they are more comfortable with.
But, your local grocery store will likely have lower-quality goods. So, try your best to jump that anxious hurdle, and you will see how much it is worth it!
Home Depot is Convenient
If you are looking to pick up your order today, home depot is probably your best bet. They have a large selection of on-site solar fountains. In addition, at some locations, they provide at-home installation from their large team of outdoors professionals!
Home Depot has Everything in One Place.
When investing in a solar panel fountain or birdbath, you must purchase all the right equipment the first time around. Home Depot is your one-stop-shop for purchasing everything at once.
There will be no additional orders or trips to the store, especially when consulting with the professional and highly educated outdoors staff!
Buying a Solar Fountain from Wayfair
The online shop Wayfair is one of the leading producers of furniture, and that includes solar-powered fountains. This trusted brand provides an outrageous number of designs, and they are all affordable, too! From country-western to tropical, Wayfair has an outdoor garden fountain that can satisfy any style.
The Best Things About Wayfair:
Affordable pricing
Small variety
Online only
Mixed-quality products
Defective/damaged products
Great return policy
Exceptional customer service
Wayfair has high-quality solar water products that come at outrageously affordable prices.
Wayfair has a Large Variety.
Each solar panel water fountain from Wayfair has a unique and trendy design. These solar power fountains come in every shape, size, style, and colour imaginable! These include everything from LED lights all the way to waterfall-inspired options.
Wayfair is Affordable
Purchasing a solar fountain or birdbath from Wayfair can be very affordable. In fact, all outdoor furniture from Wayfair comes at a surprisingly low price. On top of already incredibly low rates, Wayfair offers additional deals every day! These are wholesale prices, too, so you can guarantee they will be lower than other competitors.
You can also apply for a Wayfair Credit Card with the option to link it with your MasterCard and begin earning rewards back as you spend. For example, you can get money back on groceries, clothes, and more just for using your Wayfair credit card with the MasterCard option.
Wayfair has a Great Return Policy.
The return policy at Wayfair is exceptional, which means that you can test your solar power fountain thoroughly before deciding to return it or not. Additionally, Wayfair also provides free replacement parts and free return shipping.
Product Quality is Questionable
The quality of each Wayfair product is questionable since they are purchased at wholesale rates. This either means they ended up at their hands for a good reason, like someone ordered too many floating wall fountains or their small pond could not handle it. Or a very bad reason like it will spray water in the air every time you plug it in!
Purchasing from a wholesaler leaves it up to the discretion of the customer and the reviews of the people before you to help determine if an item is worthy of purchasing. Buy at your own risk and trust your gut. Sellers like Wayfair offer great return policies and full refunds, so you can guarantee that there is nothing to worry about if you end up unsatisfied with your order!
Wayfair has Too Many Choices.
It can sometimes seem like Wayfair has endless choices, and searching for a solar panel fountain is no exception. There are so many styles and choices to choose from that you can become lost in the shuffle as you look for your dream fountain.
Wayfair Has Unreliable Reviews
Some products do not have any reviews, which make choosing your Wayfair solar-powered water fountain very difficult. In other cases, reviews are unreliable and do not leave any comment, or they give ratings on an unfair basis, like the colour clashing with their patio.
Buying a Solar Fountain from Target
Target is known for having the hottest home decorations and outdoor furniture at moderate prices. This includes their stunning solar fountains. The chic and modern solar-powered fountains from Target use solar energy to operate.
The Best Things About Target:
Moderate pricing
Great return policy
In-person pickup
Free home delivery
Products have a short lifespan
Limited designs
Lack of available options in-person
Target is a modestly priced retailer that has a decent amount of modern solar fountain options.
Target is Moderately Priced
The solar fountains at Target are moderately priced. Sometimes you can find a really great deal on modern, chic solar furniture, and other times it can be hard to find anything. In any case, the brand-name solar fountains purchased at Target can transform your budget backyard into the garden of your dreams.
Target has Great Rewards.
Sign up with the Target RED card and earn money back rewards for each purchase. The Target rewards make large purchases like a solar fountain much more feasible. Target is also partnered with Affirm to break down your total price into separate low, monthly payments.
Target Fountains are Well-Designed
The gorgeous Target solar garden fountains are well-constructed with unique and completely original designs. Target is known for having chic, retro designs, but that is not all. The options at Target are endless! Target has modern, western, and even colonial-style solar gardens. They also have an array of solar panel bird baths to choose from too.
Target has Limited Reviews.
There are very limited reviews on Target's online solar panel products. Unfortunately, the lack of reviews means you are forced to make judgments on your own about whether the product will be good for you. So before purchasing your birdbath or outdoor solar garden online, check the measurements and specifications to guarantee that it will fit and meet your personal requirements.
Target has a Great Return Policy.
If you make the wrong call and your solar pumps end up not working out, Target has a great return policy. If you are unsatisfied, you can return your fountain for a full refund with no-cost shipping or at your local Target!
Target Does Online-Only Deals
A lot of stores do not carry each water fountain in stock. In fact, most Target water fountains are only available on the online Target market. This is also true for solar collectors, mostly available on the Target website, not in stores.
To guarantee you are getting the outdoor garden waterfall or birdbath of your dreams, purchase your Target solar water fountain through the Target website. In addition, you should also purchase a separate solar panel to power it with.
Buying a Solar Fountain from Overstock
Overstock.com is a great place to purchase your new solar fountain! There are so many unique designs here, like the Glitzhome metal farmhouse fountain. This solar garden fountain is powered using an external energy source like a solar panel.
Every fountain from Overstock gives a truly ethereal feel. The peaceful sound of running water brings you closer to your inner bliss. The Overstock products are innovative and unique, with designs that you cannot help but be in awe of!
The Best Things About Overstock:
Very affordable
Online only
Mixed-quality products
Rewards program
Design variety
Massive selection
Overstock is an affordable marketplace to purchase solar power fountains that have gone through the overstock process.
Overstock Has Great Product Variety
Overstock has many different types of solar-powered fountains. They all come in their own unique styles, including the traditional multi-tier fountain and modern birdbath disks! The waterfall designs at Overstock are innovative and can evolve the most mundane atmosphere into a magical escape from reality.
Overstock Fountains are Affordable
Most solar panel fountains from Overstock come at a low price because they are sold wholesale. Plus, they typically have additional sales and discounts on top of them!
Overstock Offers Payment Plans
Overstock offers to finance, so you pay off your solar fountain over a span of 6-24 months. You can also finance your solar panel as a part of one total, too, to make paying everything off much easier.
Overstock Has a Rewards Program
Overstock has a great rewards program called the Overstock Loyalty Program that gives you 5% back on every purchase so you can get your money back! So when buying your solar fountain, you can practically get your solar panel for free.
Overstock is NOT Defective!
Many people are hesitant to purchase from Overstock because they are worried about the quality. Overstock goods do not mean they are defective. Many overstock goods are purchased because someone else bought too many versions of that solar fountain!
The only time a product should be defective on Overstock is when something has gone wrong. Overstock will fix the situation promptly to give you a full refund or replacement!
The Breakdown on Where to Buy Solar Fountains
Solar water fountains are a great investment for anyone looking to add a splash in their garden or backyard. You can purchase an affordable fountain at your local gardening store or retailer. Most offer financing plans which let you pay off your fountain over the duration of a year or more!
What is the Best Solar Water Fountain?
There is not a single best solar water fountain. Every person has their own taste, so you should explore different avenues and find something that suits your style. In addition to the aesthetic, you should also consider the rhythm the water will make and the amount of space it will take up.
The most important thing to consider when purchasing your new fountain is what type of solar collector it uses. Choosing between a separate solar panel and floating bird bath solar plates can be challenging.
The small floating solar birdbath plates are great for collecting and storing energy. These tiny floating solar panels do great in a small birdbath or a set of cascading pots. Meanwhile, the large separate solar panel is better for supporting massive structures. Solar birdbath plates can be the main fountain pump; however, the dimensions of your fountain and solar birdbath plate would need to be very exact.
Do Solar Fountains Really Work?
A solar fountain will work if your solar panel gets direct sunlight during the day. The time your solar panel spends under the sun charges it and will later let this run your solar pump.
If your panel does not get time in the sun, then it will not get charged. Without an efficient charge, your solar panel will run ineffectively, and the solar pump is not going to work.
Conclusion
Bringing solar energy into your home is the first step to a cleaner, safer environment. By welcoming renewable energy into your life, you are breaking free from your reliance on electricity! Using solar energy is a whole new way of living and will completely transform your outdoor garden.
Many great solar fountain construction companies specialize in building the fountain of your dreams. But, if you are looking for a more mainstream, cut-to-the-chase approach, the most recommended shop is Home Depot, which has the widest selection of choices and designs so you can create an outdoor space that brings your eco-friendly vision; to life!
Home Depot provides free home delivery in addition to being the most widely available gardening chain nationwide. Their prices are unbeatably low, and their skilled staff is highly knowledgeable in the gardening and construction trade.